Saigon architecture is based on Western urban style. Taking the Saigon River as a standard, the main roads start from there, then the transects divided Saigon urban area (stretching along rivers and canals) into square streets. The central area, or the "core zone" of urban centers, is adjacent offices, trading and service centers, such as villas, schools, hospitals and other public cultural works. The landscape of the city center has become familiar, creating Saigon features such as Notre Dame Cathedral, Post Office, Opera House, People's Committee, Eden area, TAX shopping mall, Ben Thanh Market, City Court, museums, religious works... People consider the central area of Dong Khoi - Nguyen Hue - Le Loi - Ham Nghi as the "soulful" place of Saigon urban.
Among modern life, there are many areas in Ho Chi Minh City that are attractive to both tourists and city residents, especially for the weekends. Saigon On Motorbike will recommend for you 8 markets below.
1. Ben Thanh Market
If Dong Xuan Market is a feature of Hanoi, Ben Thanh Market is one of the characteristics of Saigon. It would really be a big regret when you come to everywhere but the Ben Thanh Market.
Ben Thanh Market is located in South Gate - the intersection between Phan Boi Chau, Phan Chu Trinh, Le Thanh Ton streets and Quach Thi Trang site, Ben Nghe ward, district 1 and the oldest market here. The most prominent symbol of the market is the big clock at the south door of the market like the Big Ben London clock.
With an area of over 13,000m2, the market sells mainly items of clothes, fabrics, shoes, handicrafts, fresh food, fresh fruits and flowers. In addition, the market is very rich with snack shops, dishes of different regions in the South.
"Brilliant - Bustling" is what can be seen at Ben Thanh market when the moon rises. It seems that this is the "real time" of this market. Many trading activities occurs while many tourists and locals visit, enjoy the food. Come to Ben Thanh market if you're ready to live with a "2nd Saigon" - Saigon at night.
If you take it for granted that Saigon is a busy city, it is necessary to feel and understand that the bustling pace of the day is related to hard work, earning a living but the fastness of the night is the color of parties.
If you can fully feel the two aspects of Saigon, you must have had your wonderful time here.
2. Binh Tay Market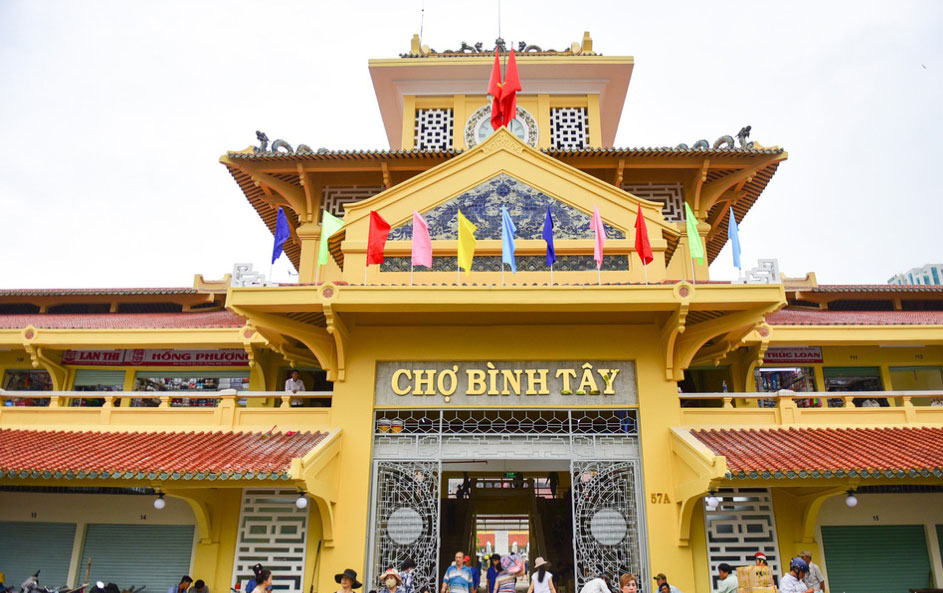 Binh Tay Market, which was built in the 20s of the twentieth century, is also known of Cho Lon (New Market). The market is built on an area of more than 17,000m2 in the old Binh Tay village based on ancient Asian style. Binh Tay Market now has over 2,300 stalls with more than 30 product groups. Major products include Spices (abalone, micro-fish, fish bubbles, needles, mushrooms... for cooking), jams, cakes, ready-made clothes, shoes, leather bags, household goods, general department store, jewelry, gemstones… Goods in the market are very rich and diverse in types, their prices are consistent with the purchasing demand of middle-income people.
3.Tan Dinh Market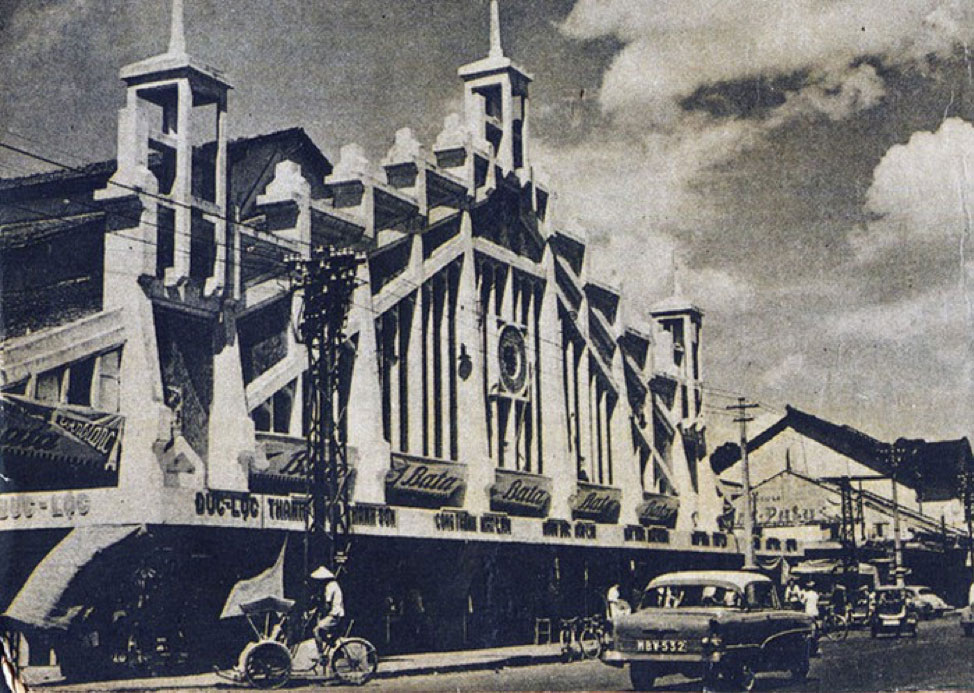 Tan Dinh Market was once considered a prosperous place of rich people in Saigon.
Located on Hai Ba Trung Street, Tan Dinh Market was built in 1926 with 4 main doors. Through many changes of time, until now Tan Dinh, the market has not much changed, it still retains the ancient architectural style.
The market is a famous site for buying cloth and silk. The food sold there is very delicious so that you should come and try.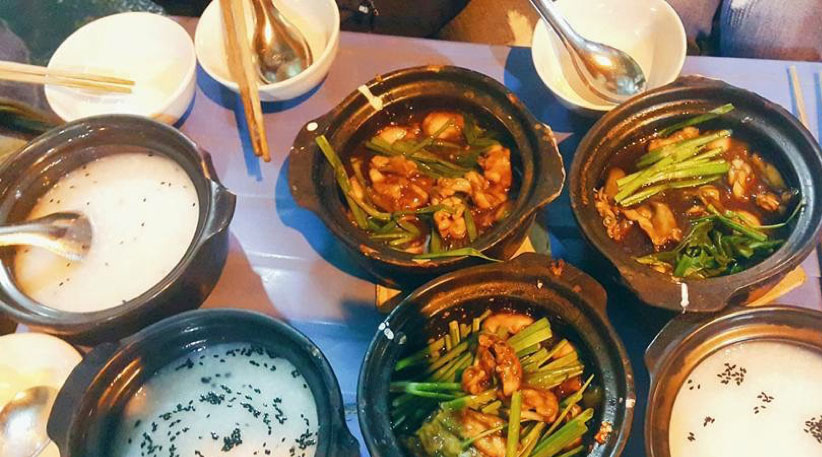 Every afternoon, Tan Dinh market becomes bustling with many shops and food stall. Many delicious dishes there have created a reputation for this food court, which makes any gourmets must be curious to discover.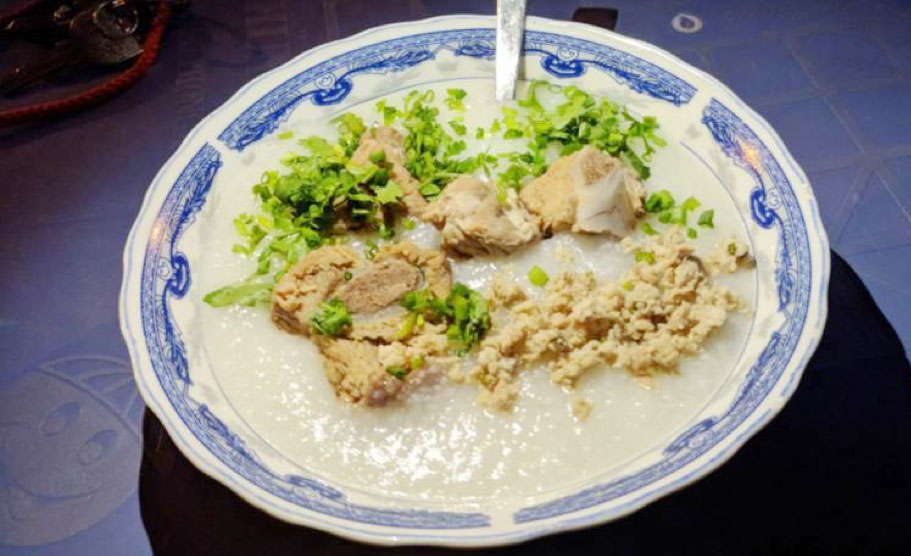 4.Ho Thi Ky Flower Market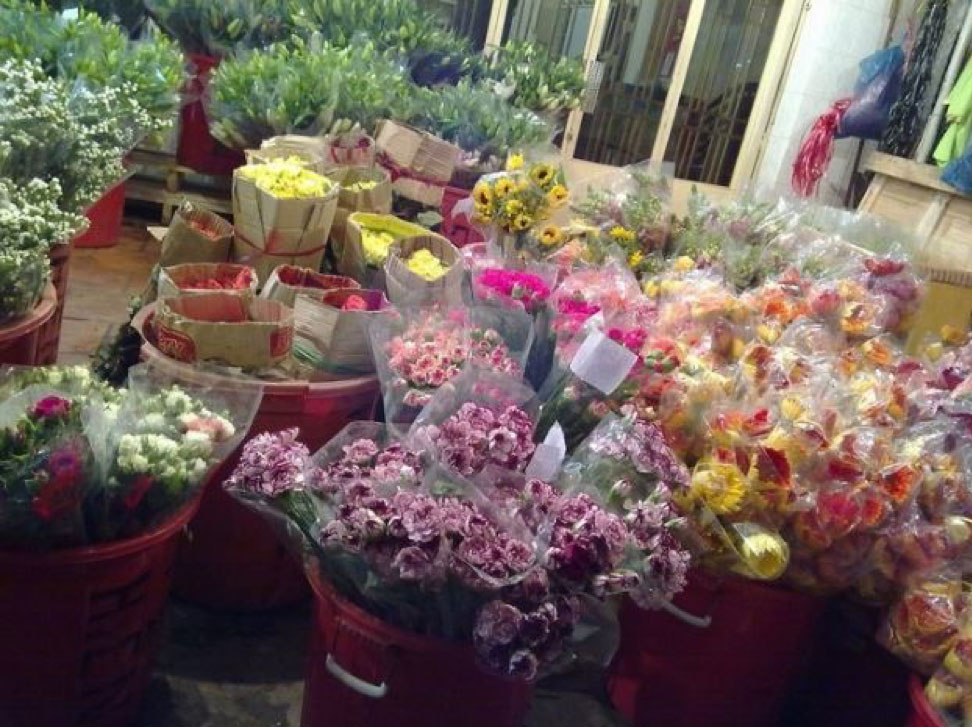 Ho Thi Ky flower market is located on the street of the same name, nestled in Le Hong Phong apartment building, ward 1, district 10. Ho Thi Ky flower market is one of the largest wholesale flower markets in Saigon. It has undergone nearly 30 years old since its founding in 1987.
Ho Thi Ky Flower Market has a mixed variety of hundreds of different and richly colored flowers, originating mainly from Dalat and some other places in the country such as the Southwest region, Hanoi, ...
The flower market operates 24 hours a day. From the dawn, the market is bustling with flower trading and transport activities. During the holidays, the flower market is even more crowded and bustling.
Not only specializing in flowers, this flower market also sells flower baskets, woven baskets from rattan, bamboo and specialized flower arrangement items, which help flower lovers can create a vase of flower of their interest.
5. Soai Kinh Lam Cloth Market
Dong Khanh shopping mall, also known as Soai Kinh Lam cloth market, is called the paradise of cloth. This special colorful market is the oldest and cheapest selling place in Saigon.
According to the local, the reason why the market has such a strange name because there was a huge flower restaurant named Soai Kinh Lam located next to the market many years ago. Gradually, people called it as Soai Kinh Lam market.
The most special feature is that each stall in this fabric market will specialize in selling a certain type of fabric, not a mass sale. Therefore, buyers only need to ask any store, just describe the type of fabric you want to buy, they will be enthusiastically instructed by the owners.
Soai Kinh Lam Market has become a familiar shopping destination for not only Saigon people but also many people from neighboring provinces.
6. Le Cong Kieu Antique Street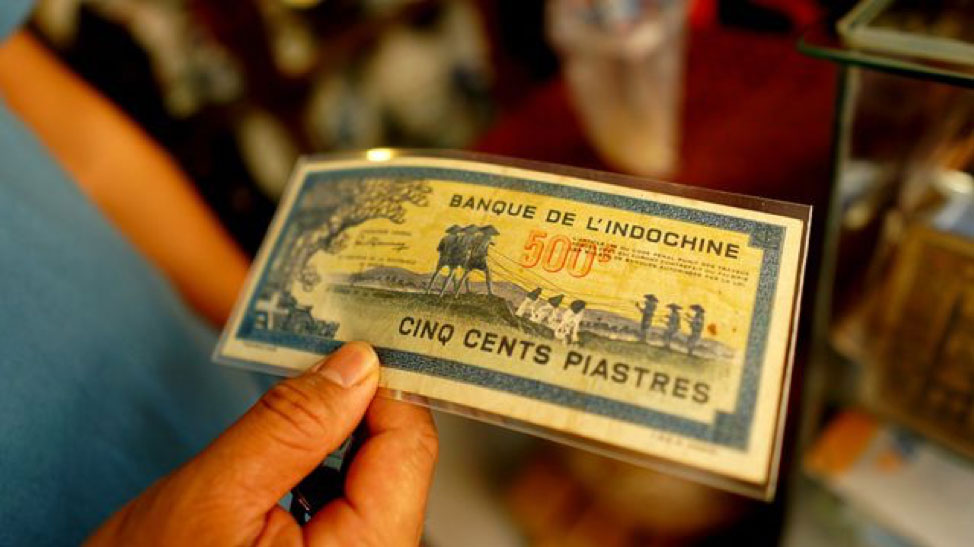 Associated with a meditative feature in the busiest place in Saigon, it seems that Le Cong Kieu Street (District 1) has never lost its focus. The houses with moss-style architecture, antique objects dating back hundreds of years are displayed spreading the aisles ... bringing visitors to another world.
Coming to Le Cong Kieu street, people seem to be lost in the world of nostalgia, coins, pottery pots during the Nguyen Dynasty and the Qing Dynasty, including items such as cups, forks, copper pots, incense sticks, Buddha statues ...
Over the years, the ancient town of Le Cong Kieu still retains the peace and quietness that hardly any place in Sai Gon can have in appearance as well as the level of cultural and historical significance. Through the flow of history, this is still the place that contains the unforgettable colors of many people's memories.
7. Container Market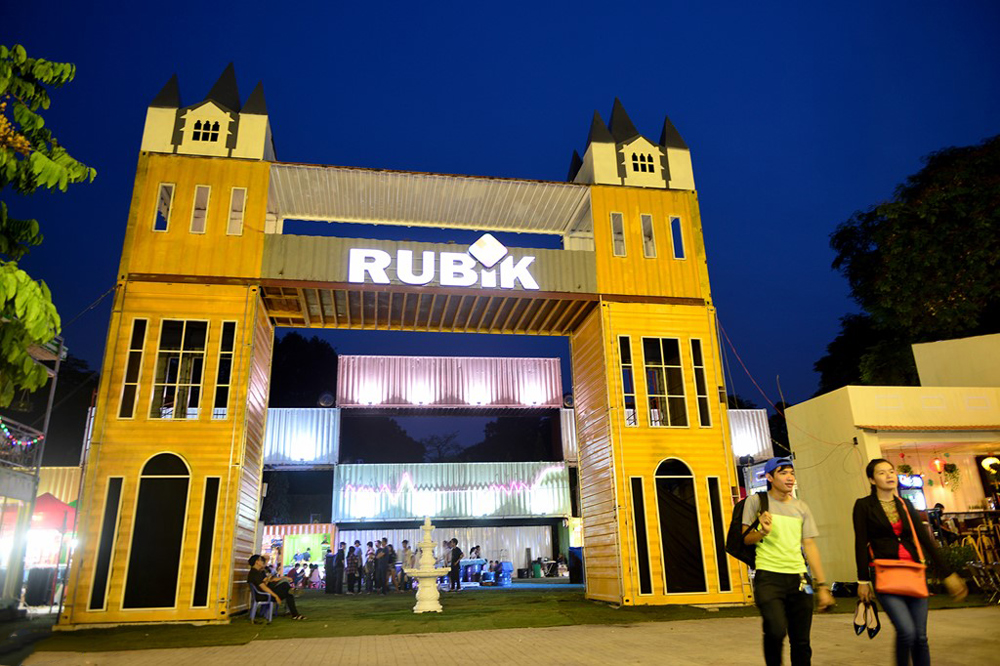 With the campus up to 5000m2 and more than 300 booths. Rubik Zoo is expected to become a shopping, dining and entertainment center that cannot be ignored. This is a site for you to discover and entertain with friends and family members.
There are about 100 designer fashion brands, many home décor brands, accessories, handmade, notebooks, picture books and big fashion brands that are similarly decorated with shopping streets in France or Italy.
You can not deny that you have to take the camera to pose immediately with super-spectacular and unique backgrounds only available at Rubik Zoo. There are the Film Studio and Art Studio and the outdoor performance stage - the most outstanding, under the polished hands of the directors and directing art names from HTV, VTV, ... gives viewers a sense of being lost in different lands in the world.
8. Dan Sinh Market (Residential Market)
Dan Sinh Market is the only place left in Saigon, where war memorabilia becomes a commodity as well as keep the faded memorial space for someone with a strong sense of nostalgia.
People come there for many ranges of goods, from affordable to high-class items. Maybe they search for items from the aircraft parts to the rope to sew the military bag, and the belongings of the rich family, from a piece of cloth to a kitchen mat to an Arabian carpet.
The stalls selling soldiers at the Dan Sinh market today are divided soldiers into 3 levels. American soldiers are premium brands. A new pair of American soldier shoes cost several million. Then there are Zippo lighters, water bottles, badges of army soldiers ... everything is "hot".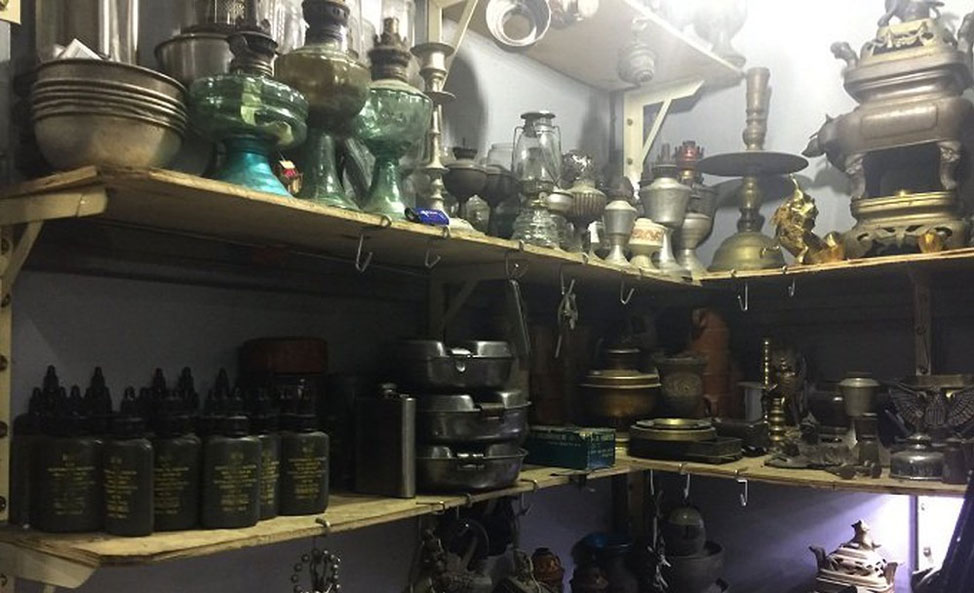 Perhaps Dan Sinh market is the only place left in Saigon, where war memorabilia becomes the goods for earning a living as well as recalling the faded memories for people with nostalgic feelings.