Cu Chi - historical place and its untold stories
The Cu Chi Tunnels - one of the most remarkable attractions in the South of Vietnam – is a symbols of loyalty, wisdom and creativity of Viet Cong Soldiers during the struggle for Vietnam independence.
About Cu Chi
Cu Chi is a suburban district located in the northwest of Ho Chi Minh City, about 33 km from the city center. Cu Chi District is located on a transitional land from the highlands of the southeastern mountains to the lowlands of the Mekong Delta. The heigh decreased from northwest to southeast and from northeast to southwest. Average elevation is 8m - 10m.
Cu Chi tunnel with Saigon on motorbike
Cu Chi is located between the Saigon River and the Vam Co Dong River, interchanging with the eastern and southwestern provinces. Cu Chi is a historical land during the two anti-French and anti-American wars of the Saigon - Gia Dinh.
Cu Chi Tunnels – A must-visit place for tourists
The Cu Chi Tunnels are located in the area where the United States called the "Iron Triangle." "Iron Triangle" includes Cu Chi, Trang Bang and Ben Cat. The "Iron Triangle" is a destructive enemy area. People said that this is not only an invulnerable land of the liberation army but also the base of many revolutionary units.
The district includes Cu Chi Town and 20 communes: Phu Hoa Dong, Tan Thanh Dong, Tan Thanh Tay, Trung An, Phuoc Vinh An, Hoa Phu, Tan An Hoi, Tan Thong Hoi, Tan Phu Trung, Thai My and Phuoc.
Almost people know that Cu Chi Tunnels – a part of Cu Chi district - is a famous historical site during the Vietnam War. Cu Chi also has Ben Duoc Memorial Temple - Cu Chi. At present, Cu Chi Tunnels are preserved in two areas: Ben Duoc (Phu My Hung commune), Ben Dinh (Nhuan Duc commune).
Cu Chi Tunnels is an underground defense system excavated by the Viet Minh and the National Front for the Liberation of South Vietnam during the Indochina War and the Vietnam War. The system includes an office, an infirmary, a kitchen, a storage room, several rooms, an underground tunnel system. The tunnel system is about 250 km long and its ventilation systems at the bushes. Cu Chi tunnels are built on a place known as "steel land" and located at the end of the Ho Chi Minh Trail. During the Tet Offensive of 1968, the National Front for the Liberation of South Vietnam used this tunnel system to attack Saigon.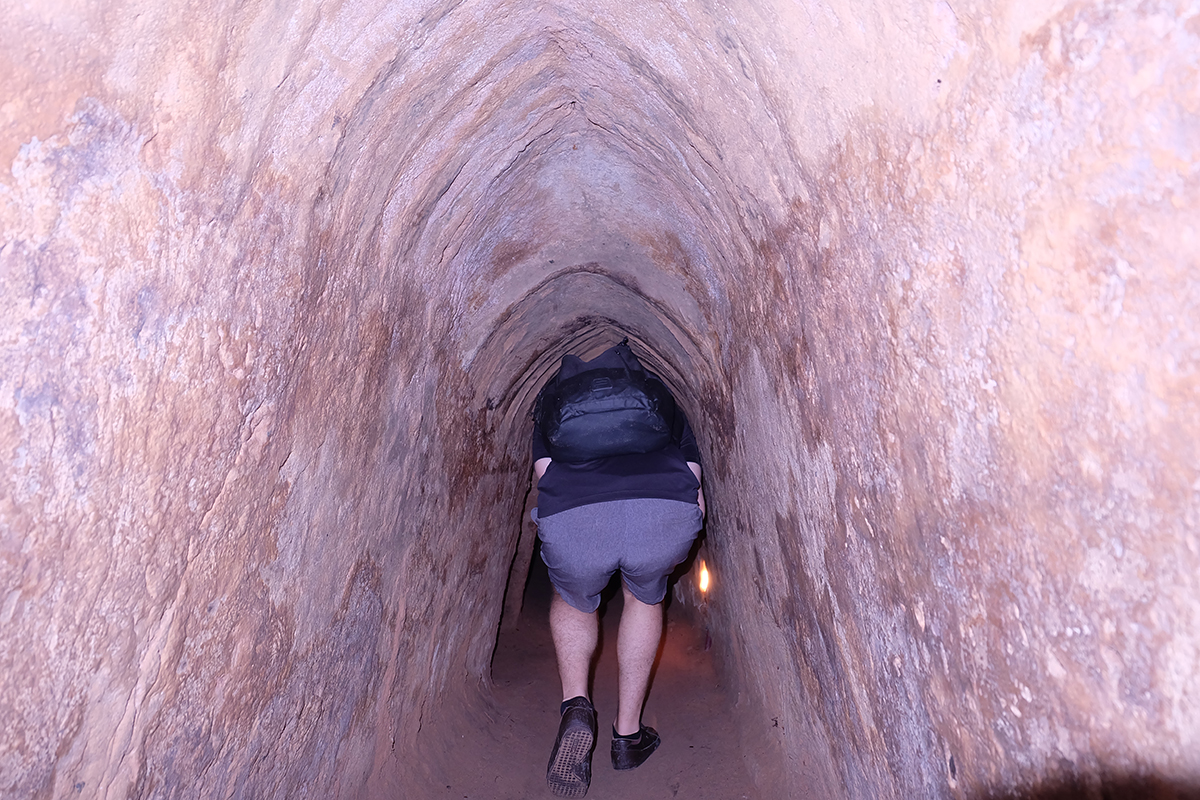 Hang in Cu Chi tunnel
"Cu Chi tunnels" is the common way to call different tunnels built from 1946 to 1948, during the Indochina War. At this time, residents of Tan Phu Trung and Phuoc Vinh An communes dug short tunnels, the simple structure used to hide, keep secret documents and weapons.
The locals dug tunnels to avoid the raids of the French army and to provide hideouts for the Viet Minh. Every village built its own tunnels and then, because of the need to travel between places, the tunnel system was connected to form a complex system. Then the system was broaden in many places, especially in the northern six communes of Cu Chi.
Nowadays, Cu Chi tunnels system is 120 km long and become an attractive tourist destination for visitors to Ho Chi Minh City. Visitors, especially veterans, often choose this attraction when visiting Ho Chi Minh City. Visitors can experience life in the tunnel as residents before.
Is there anything else in Cu Chi?
On the way from Saigon to Cu Chi, there is a trade village that has existed for years but it is not very famous with citizen. This is Cu Chi rice paper village.
Over a hundred years of ups and downs, existing and developing, there was a time when the village seemed to be a deadend. But thanks to the application of machinery, the trading village has flourished. Although Although living there, people do not know exactly when does the traditional village started. They only know that when they were born, their mom or sister had already done this job.
Some people began to make rice paper at the age of 10, some stared making rice paper at the age of 18. They were attached to the mill, the oven, the rolls until their hair turn into two colors.
There are many types of rice paper are sold in the village. Those rice paper can also be used as ingredient for many junk food or street food in Saigon. Rice paper is one the features of Cu Chi. If you have a chance to come there, you should try once.
There is one thing that you should not pass when you go to Cu Chi, this is rubber forest. It is of great economic importance because the liquid extracted like its resin (called pus) can be collected as the main source of natural rubber.
The rubber forest begins to change leaves from late December of last year until March next year. But the ideal period for the ideal time for visitors and photographers to come there is January and February. Because at this time, the scenery is so romantic and picturesque than ever before.
Cu Chi Tunnels, as well as Cu Chi District, is an ideal destination for who want to know more about Vietnamese history. Here in Saigon that we offer some adventure tour, especially in Cu Chi, which let you get your own experience. Cu Chi Tunnels by motorbikes served by Saigon on motorbike is one of the best choices for those who want to enjoy a day in Cu Chi. If you are in Saigon and in the need of going for a day in Cu Chi, don't hesitate to contact us and enjoy yourselves!