Tips when going to Ben Thanh market
Ben Thanh Market can be considered as a characteristic of Ho Chi Minh City. In this article, Saigon On Motorbike will show you the overview of Ben Thanh Market, its foundation, things to buy, another aspect of the market at night and nearby places.
Origin and name Ben Thanh Market
Ben Thanh Market is a market located in District 1, Ho Chi Minh City. The market was constructed from 1912 to the end of March 191. In many cases, the image of the south gate of this market is considered an unofficial symbol of Ho Chi Minh City.
Ben Thanh market had existed before the French invaded Gia Dinh. At first, the market was located on the bank of Ben Nghe River, next to a river near Gia Dinh Citadel (known as Ben Thanh Citadel). This place is used for military passengers, so it is called Ben Thanh, and the market is also called Ben Thanh Market.
Ben Thanh Market today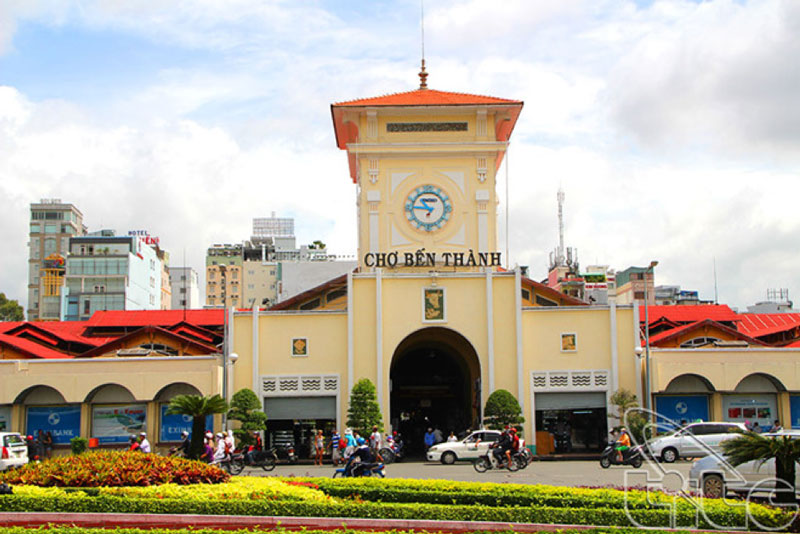 This is not only a place of business but also a historical witness over the past hundred years. Ben Thanh Market is the biggest trading site of Vietnam and the transaction between ancient and modern Saigon.
In recent years, Ben Thanh Market is an indispensable stop for any tour to Ho Chi Minh City. Of course, tourists come to the market not only to buy goods or souvenirs but also to find a characteristic character embodied in the daily life of the city.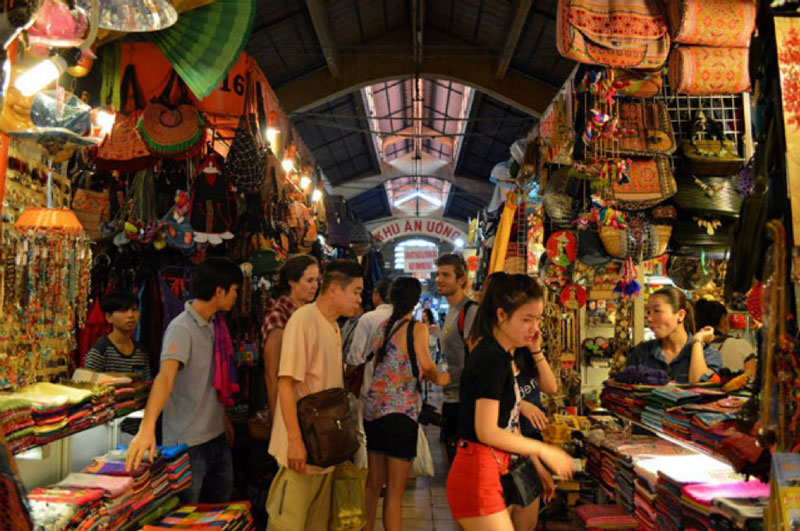 Ben Thanh Market is considered to be the largest retail market. You may find any goods from popular to high-class, especially food products of the most selective type. There is no shortage of anything here, from onions, chilli, vegetables, fish, all kinds of fruit, … to junk food, cloth, shoes, bags, electrical and electronic products, souvenirs, …
Ben Thanh Market has a total area of 13,056m², with an average of 10,000 visitors coming to visit, buy things and sell products. There are 1,446 stalls, 6,000 small businesses, 5 firms in the market with four main doors and 12 sub-outlets radiating in four directions.
What should we buy at Ben Thanh Market?
Being associated with Saigonese, Ben Thanh Market is loved by many tourists from all over the world. They come and choose special items that are not sold at any market. Together with Saigon On Motorbike, we will discover what is sold at Ben Thanh Market.
1.Handicrafts
In Saigon, Ben Thanh Market is a place specializing in providing fine arts and handicrafts with various shapes and colors. This is one of the businesses that have been handed down for many generations in Saigon.
If you do not know what Ben Thanh market sells, now you can buy this item. Visitors to Saigon travel choose handicrafts as souvenirs in their travels.
2.Curry
When referring to Ben Thanh Market, it is impossible to ignore the special item that has been handed down since this 19th-century market - Curry. Curry is sold separately from other categories and includes many different flavors.
If you want to buy the best curry, Anh Hai curry stall is recommended for you. This stall has registered an exclusive trademark and it has been circulated for 3 generations. Therefore, we ensure that the curry in the stall is excellent. This curry stall is famous throughout Saigon because it was passed down from the Indian father-in-law and discovered by Mr. Lu Luan and his children to create a variety of different curries. This stall is a trusting address for visitors to own delicious curry.
2.Cloth
When going to Ben Thanh market, you should come and see the fabric stalls with many different colors. At Ben Thanh market, retailers not only sell cloth, but they also sew clothes for visitors and they will receive their outfit in just a day.
Ben Thanh Market by night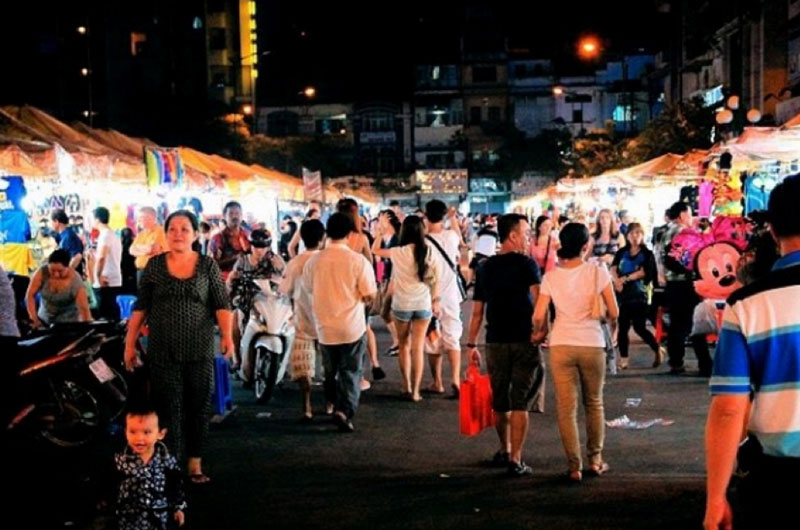 Most guests who visit Ben Thanh market at night are impressed by the unique culture of Saigon. In addition, Ben Thanh night market is a popular destination for a large number of young people after a day of hard-working.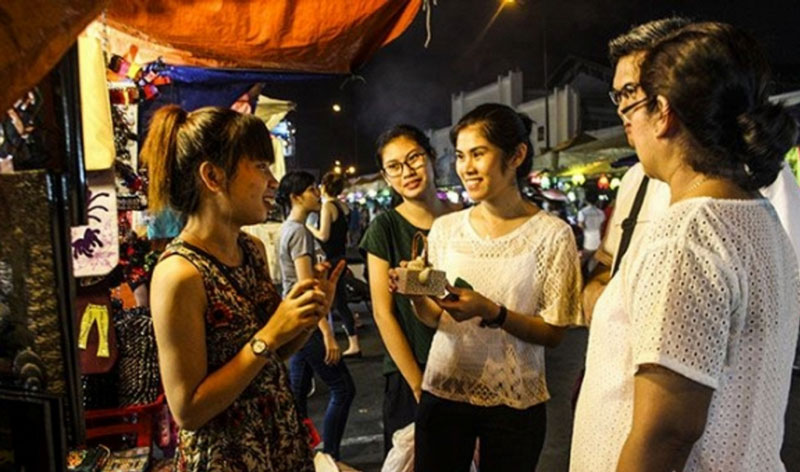 At night, there are many fashionably-dressed sellers, who speak foreign languages very fluently, step into the market and greet tourists with their heartiness. Coming to Ben Thanh Market at that time, you may have a chance to listen to many invitations in English, French, Japanese, Thailand, ... All of them form the so-called "Saigon's lifestyle".
Through the flow of history, the center of Ho Chi Minh City and the Ben Thanh Market area have many changes in both space and landscape. However, Ben Thanh market still has its historical value. Ben Thanh Market is a "landmark" that helps people identify and remember the city. It may be a representative of homeland that makes Saigonese proud of once referring to people from other countries.