Shopping guide in Ho Chi Minh City
Ho Chi Minh City is not only known to be the largest economic center in the country but also the busiest "shopping paradise" in Vietnam. The large market areas, commercial centers are always busy despite day and night. Not only finding it comfortable while going shopping, but you also admire the spectacular and beautiful interior space. Let's go with Saigon On Motorbike to explore the famous popular shopping centers.
The largest commercial centers in Ho Chi Minh City
Visiting trading centers
For those who live and work in Ho Chi Minh City, trading centers have become familiar places that you must visit several times a week. However, in the past few years, some commercial centers have been put into operation every 3 to 4 months. That is why Ho Chi Minh City named "shopping paradise". Once referring to shopping centers that are familiar with Saigonese, these are many places that cannot be ignored:
1. Saigon Center (Takashimaya)
Address: 92 - 94 Nam Ky Khoi Nghia, Ben Nghe Ward, District 1, HCM City
Opening time: 09:30 - 21:30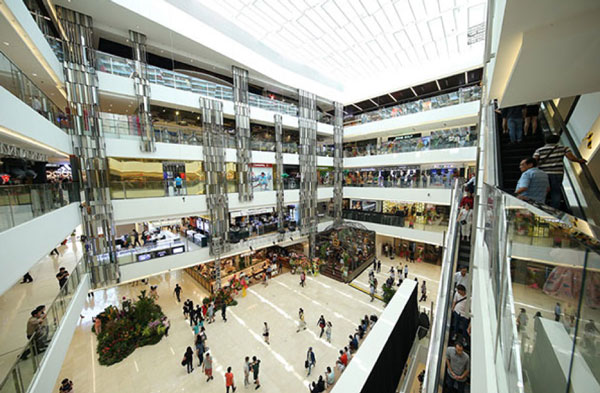 Takashimaya is the newest and most modern commercial center in Saigon. It can be said that this is really a paradise of shopping, eating and a collection of fun activities, entertainment and "updates" according to the current trend of the youth. Therefore, if you have a quick look on many social networks like Facebook or Instagram, you may see many images and "check-ins" about Takashimaya even though it has only been open for a short time.
Takashimaya looked from the outside
Located on 2 fronts of Nam Ky Khoi Nghia Street and Le Loi Street in the center of District 1, Takashimaya has a large space and elegant design. Many patterns and drawings which are curved under glass bring a feeling of both modern and classic. Not only satisfying the passion of shopping-lovers with carefully selected and well-known brands, but Takashimaya is also a place to keep cultural values and open the artistic sense.
The booths inside Saigon Center are clearly divided and carefully invested with luxurious lights and beautiful eye-catching display. There is one more thing that draws the youth's attention: they like to come here for many selfie themes that can create many extremely artistic photos. One of them is Runam café. Coming here, you may think you are in a certain tourist destination rather than a commercial center.
2. Crescent Mall
Address: 101 Ton Dat Tien, P. Tan Phu, District 7, HCM City
Opening time: 08:00 - 22:00

Being officially put into operation in November 2011, Crescent Mall is considered the first major commercial center in Vietnam to reach international standards. Thanks to an extremely unique and beautiful arc shape design, this place can be compared with other famous trade centers in the world. With over 134 retail outlets distributed across five modern large floors, Crescent Mall is a popular shopping address in Saigon.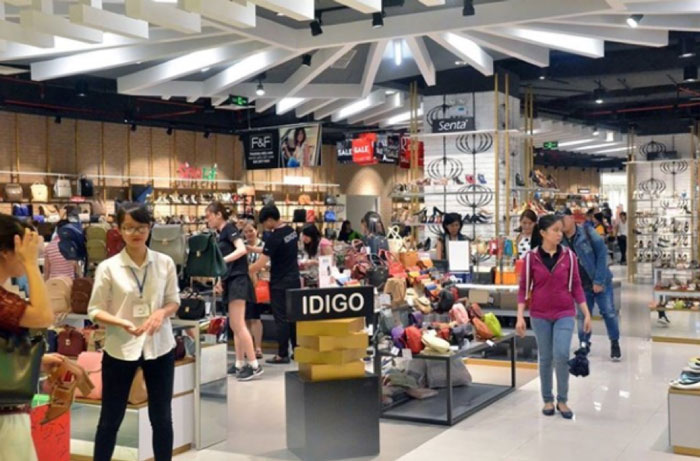 Besides being a familiar shopping venue, Crescent Mall is also known as a place where there are many different entertainment events. From live shows of famous artists, fashion shows to product launch events have attracted a large number of people, making Crescent Mall entertainment place for Saigonese.
There are many utilities served in Crescent Mall:
Safety parking lot: Spacious parking lot includes outdoor area and 3 basements. The modern ticketing system is both convenient and safe.
Taxi station:

Pick-up and drop-off point 1: Nguyen Van Linh street front.

Pick-up and drop-off point 2: Basement B1.

Information desk: Information and Customer Service counters are located on the center floor of the center where friendly staff are always available to answer questions and provide best support.
Automatic withdrawal machine: Sacombank, Shinhan Bank
Child care room: The room provides private space for mothers to change diapers, feed their babies or take a temporary break. The rooms are equipped with a sofa, changing table, a sink and a water bottle.
Food court: Bringing together dozens of restaurants with a rich menu, and open space with a capacity of over 600 people, the Food Court at the 5th floor of the center has become a favorite place for many guests.
Modern film screening: Located on the 5th floor. CGV Cineplex with a total of 8 modern screens welcomes more than 1,000 guests every day who come to enjoy vivid cinema experiences and relaxing moments.
3. SC VivoCity Shopping Center
Address: 1058 Nguyen Van Linh, KP. 1, P. Tan Phong, District 7, HCM City
Opening time: 09:00 - 22:00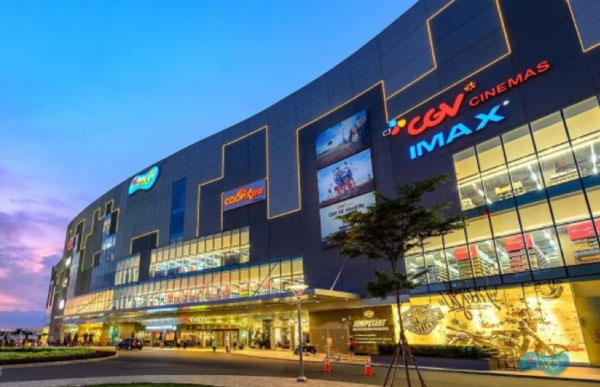 Due to the success of Singapore's largest shopping mall - VivoCity, it is listed as one of the "Top 10 shopping destinations in the world" in 2011. SC VivoCity, which is located in the southern urban area of Saigon, is considered one of the most bustling shopping centre in Ho Chi Minh City.
4.Saigon Square – A shopping paradise in Saigon
Saigon Square is one of the "stops" that you should come when visiting Saigon. In addition to being an interesting shopping destination, there are a lot of things you should explore before actually going there. In this article, Saigon On Motorbike will introduce you to the forming process of Saigon Square, the items to buy and the tips when coming there.
You can go to Saigon Square by the most common public transport - buses. It is also in SG that there are many travel companies offering tours to every corner of the city, you can register to join these tours to get to Saigon Square.
5.Nguyen Trai Street
With more than 200 businesses selling all kinds of products from footwear, clothes, bags, hats, glasses ... Nguyen Trai Street, District 5 has officially been "legalized" the first fashion city in Saigon.
Leaders of wards in District 5 officially opened the busiest fashion street in Saigon
On the evening of April 26, 2018, Fashion Street was officially launched at Nguyen Trai Street, District 5, Ho Chi Minh City. This is the road that gathers many clothing stores from luxurious brand to casual, from big shops to stalls on the sidewalks.
Nguyen Trai fashion street has a length of nearly 2km starting from Nguyen Van Cu street to the intersection of Tran Phu - Nguyen Du Duong. With more than 200 businesses selling items from clothes, shoes, glasses, ... The most active fashion street from 16h - 23h.
The most special attraction of fashion shop Nguyen Trai is that it is youthfully designed. It is always bustling there with many buyers and sellers exchanging products.