Instructions for renting motorbikes in Ho Chi Minh City
You want to ride a motorbike to have your own experience in Ho Chi Minh City but don't know how to rent it? Do not worry! This article will give you specific instructions on how to rent a motorbike.
4 reasons to ride a motorbike
Even if you can buy a lot of cars, you should still have a motorbike because of the convenience that this vehicle offers. Motorcycles have the beauty of timeand it is more convenient than car when a traffic jam occurs. Those are the conveniences:
1. Cheap price
Obviously, the amount of money that you spend on a small car is enough to buy a few high-end scooters, except from the superbike, which is somehow more expensive than the car. In fact, many people are afraid of rain and sun. But if they wear raincoats and coats, everything will become easy.
2. Light weight
The average weight of only 100 kg compared to the weight of more than 1,000 kg with about 2,000 details of all kinds, a lot more complicated. How much more fuel is needed to make the massive machine work. Only in this comparison that you can see the difference.
3. Convenience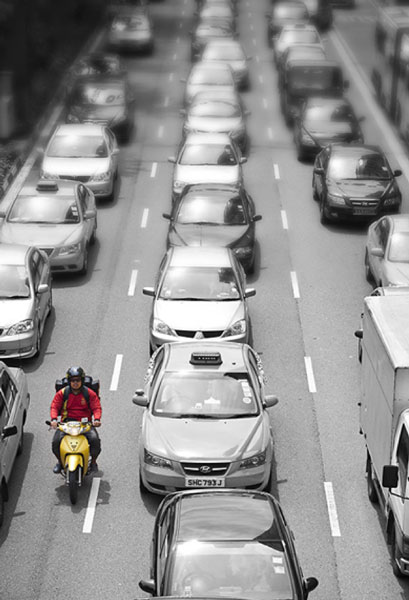 Motorcycles are really advantageous.
When a traffic jam occurs, the cars only have to wait, but drivers using the motorbikes may find it easy to wriggle. When you wanna go somewhere, you had better think of the parking lot if you own a car, because there might not a parking area at the destination.
4. Environmentally friendly – saving money
The owner of a motorbike may conquer the journey of 100 km with less than 5 liters of gasoline while a car's owner must need to buy double that amount of gasoline. Thus, the amount of gas exhaust also doubled. Of course, with a motorbike, you may reduce the emission and may save a lot of money for gas.
Procedures for renting self-driving motorbikes
Conditions for renting a self-driving motorbike:
- The driver must have a license.
- Leave original ID card, driver's license (photocopy)
- Paying the renting fee in cash before receiving the vehicle (if it is not paid previously) and when the vehicle is returned, all the documents will be given back to you.
- If you are foreign customers or overseas Vietnamese, you have to leave a passport Deposits: From 3,000,000 VND or more depending on the type of vehicle
Prepare the necessary paperwork before renting
Before going to rent a motorbike, you should call the rental place to see if the rental motorbikes are available and what documents to prepare. In case you are far from the rental place and you forget some important papers then you go back to get them. The necessary documents when renting a motorbike are an ID card, passport, car ticket and license of the one who will ride the motorbike.
Check vehicle quality when renting
You rent a motorbike for backpacking but you do not know very well about the motorbike? We recommend that you should check parts such as brakes, tires, lights, whistles, turn signals, etc. You can also let the vehicle start to hear the sound from the engine and check if it is unusual or not then you should ask the owner to test the vehicle to see the stability. Vehicle inspection is necessary to detect damage and to ensure that you will have a safe trip with the vehicle.
Clarify contracts and documents
You should ask for a clear rental agreement with information about the vehicle type, license plate, renting fee, deposit, date of receipt, date of return, available damages and agreements.
Another note for you is that you should ask the owner the nearest gas station to fill the tank with gas before starting the journey to discover in ho chi minh city.
Some notes when renting motorbikes in ho chi minh city you need to know
- You should rent a motorbike about 1 day before arriving at Tan Son Nhat airport or the train station. Please inform the owner before boarding the plane or before the train reaches the station for about 3 hours. You should call the car rental party to prepare the motorbike and deliver it to you.
- You should negotiate the price before renting the car, if you rent for a long time, it may cost less then short-term renting. Renting fee from 5 days or more is very cheap, only about 90k per day.
- Before returning the motorbike, you should contact the car receptionist before about 2 hours so that they may arrive at the vehicle pickup location on time.
Locations to rent cheap and prestigious motorbikes in Saigon
Bike Rental Service Bike Saigon
- Website: bikesaigon.com
- Contact: 070.38.37.361 (Mr. Nam); 0974.424.163 (Ms. Trang)
- Address:
Facility 1: 508/34 Cach Mang Thang 8, P. 11, District 3, Ho Chi Minh City
Facility 2: 103A Road No. 6, P. Long Truong, District 9, Ho Chi Minh City
Facility 3: 74/6 Road No. 3, Truong Tho Ward, Thu Duc District, Ho Chi Minh City
Bike Saigon is the premier, top quality motorbike rental place in Ho Chi Minh City. There is a wide range of services including motorbikes, sport bikes, scooters that customers can freely choose according to their needs from time to time.
Bike Saigon serves a very simple and quick procedure for renting motorbikes, delivering and receiving vehicles in Ho Chi Minh City for free so you will save time and costs.
Bike rental prices at Saigon motorbikes range from 50,000 VND to 200,000 VND depending on the model and type of vehicle. If you do not know where to rent a motorbike in Saigon with a low price, you can choose Saigon Bike.
Vi Na Sat Company
Facility 1: 19 Nguyen Thi Minh Khai, Ben Nghe Ward, District 1, HCM City
Facility 2: 985 Pham Van Bach, Ward 12, Go Vap District, HCM City
Contact: 0903 939 220 - 0937 929 220 (Mr. Tuan) – 0343017136 (Mr. Phuc) – 0963 369 004 (Mr. Dung) – 0972 445 101 (Ms. Nga)
Rental price depends on each type of vehicle, for example: For popular motorbike companies such as Wave, Sirius, Attila Victor, Novo 3 priced from 80.000 – 100.000 VND; scooters like Airblade, Novo LX, Attila Elizabeth, ... priced around 120.000 – 150.000; high-end models such as SH, PS, Vespa cost about 200.000 VND.