9 dishes for breakfast highly recommended by Vietnamese
Culture Trip lists delicious and popular breakfast dishes that foreigners should try when traveling to Vietnam.
Vietnamese people start a day very early. From the dawn, all the parks and sidewalks are crowded with people going to work. Everyone needs to be "recharged" before starting a busy new day. Here are the favorite breakfast dishes in Vietnam according to The Culture Trip:
1. Banh mi – Vietnamese Bread
Banh mi is a perfect dish for breakfast for those who need to go to work quickly and early. It is convenient, delicious, cheap and available in all regions.
Vietnamese bread is served with eggs, pate, dried scallops, spring rolls, dried chicken meat with herbs. This "sandwich" has become a "top priority" breakfast chosen by millions of Vietnamese people.
Every morning, everyone needs energy for starting a new working day. Banh mi, with a reasonable price, is a perfect choice for those who rush to work or school.
2. Xoi - Sticky rice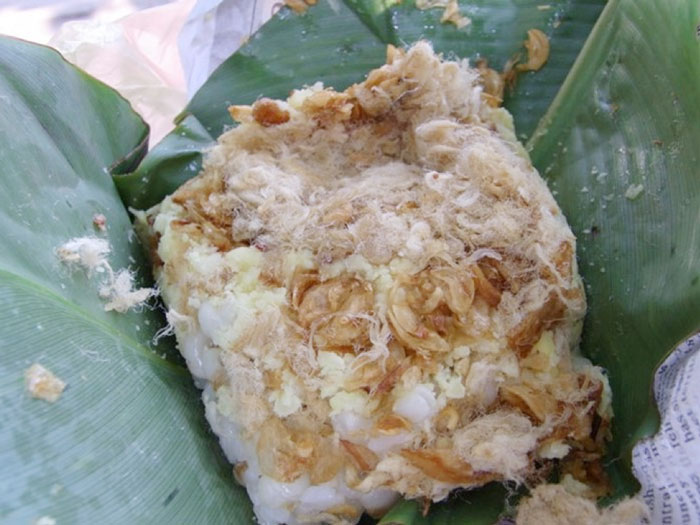 Sticky rice is as equally popular as bread. Sticky rice food stall in a corner is a familiar image in Vietnam. Traditional dishes, which were only available with sticky rice in the previous days, are now more diverse with many "topping" types. It can include dried onions, eggs, sliced meat and sliced sausages. Sticky rice is easy to take away so that it is highly recommended by those living in such a busy city like Saigon.
3. Bun cha gio - Vietnamese vermicelli noodles with fried spring rolls
This is a special version in a mixed variety of different dishes from vermicelli. Vietnamese vermicelli noodles with fried spring rolls are often made from tangled vermicelli with a slightly opaque white and natural sour taste.
There are many vermicelli dishes in Vietnam but many people still like Bun cha gio. Your breakfast is ready with a hot vermicelli bowl served with greasy pork, spring rolls, vegetables and special sauces.
4. Banh cuon – Vietnamese stuffed pancake
Banh cuon is made by steaming fermented rice flour on a cloth. After that, the cake is spread with a thin layer of fat, then added with minced meat and mushrooms. Banh cuon is served with roasted cinnamon pork, spring rolls or grilled meat and herbs.
5. Pho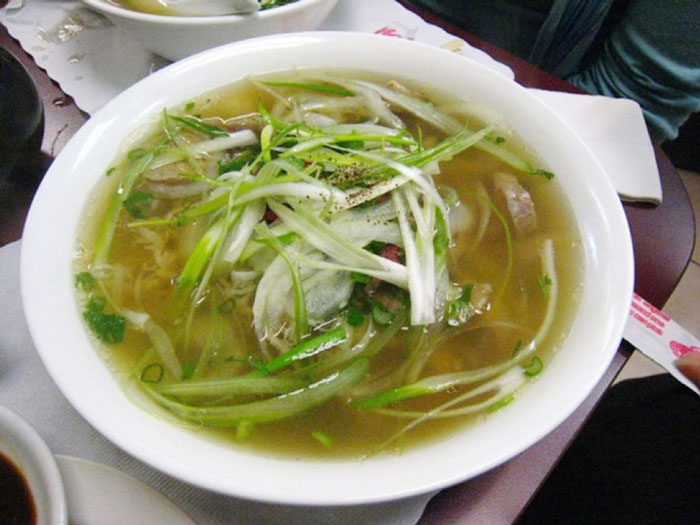 Once mentioning Vietnamese cuisine, the first dish that crosses your mind is Pho. This is an indispensable dish for breakfast of many people in Vietnam. This dish includes noodles, beef or chicken, green onions, herbs, bean sprouts. A special feature of pho is the fragrant sweet broth that is simmered from the bone and then added spices and flavorings.
6. Sauced beef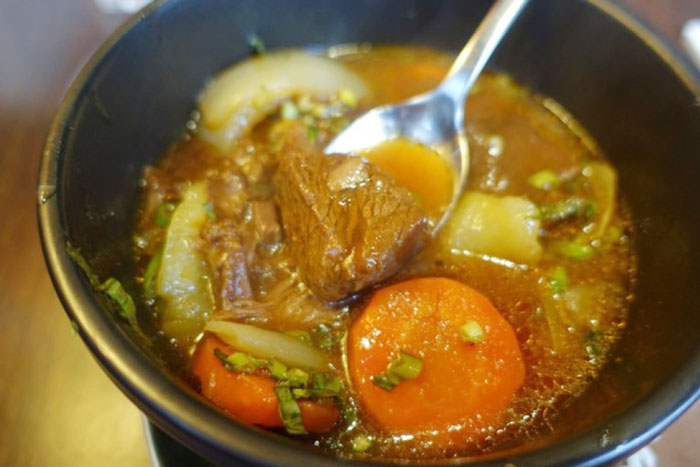 This is one of the favorite Vietnamese dishes of The Culture Trip editors. This dish is praised for being able to eat every day without getting bored. Just dip a piece of bread into a sauce and you may be "addicted" until the last drop.
7. Broken rice
Broken rice has long been a popular dish throughout Vietnamese streets. Whether you are in Hanoi, Saigon, Da Nang, Hue or the Western, you can easily find a restaurant selling delicious broken rice.
8. Bun bo Hue - Hue beef noodles soup
Hue beef noodle soup originated from Hue - the central of Vietnam. In Hanoi or Ho Chi Minh City, this dish is very popular. Hue beef noodle soup is well cooked and, of course, has high quality. A "standard" bowl of Bun bo Hue includes beef, pettitoes, meatball and herbs.
9. Vietnamese beef brisket noodles
Dishes with broth are always preferred for breakfast in Vietnam. In the South, the most popular one in "broth dishes" must be beef brisket noodles. People take it for granted that brisket noodles are from Cambodia.