Do you know Vietnamese cuisine ?
Street food or junk food is all kinds of food, drinks that have been ready-made to be served to meet the demand of customers on the sidewalks or public places.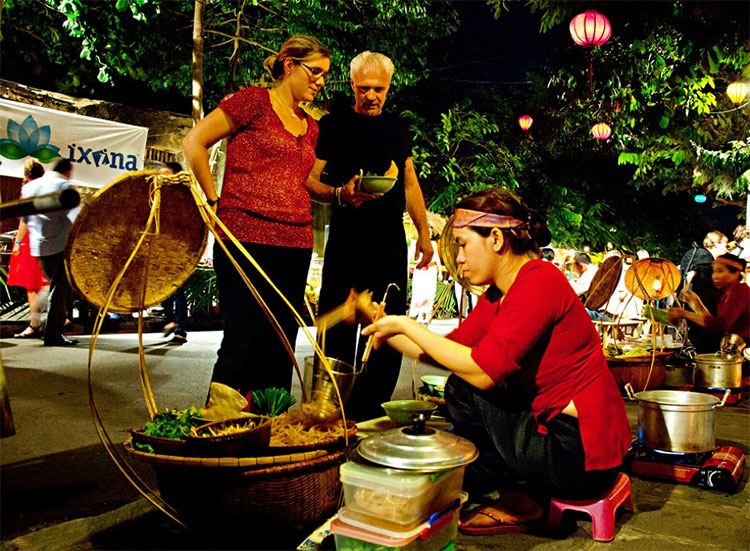 Northern cuisine is deeply imbued with the essence of a long-standing culture so that dishes of the North are refined to become an indispensable cultural norm. There are many kinds of food that you should try once coming to the North: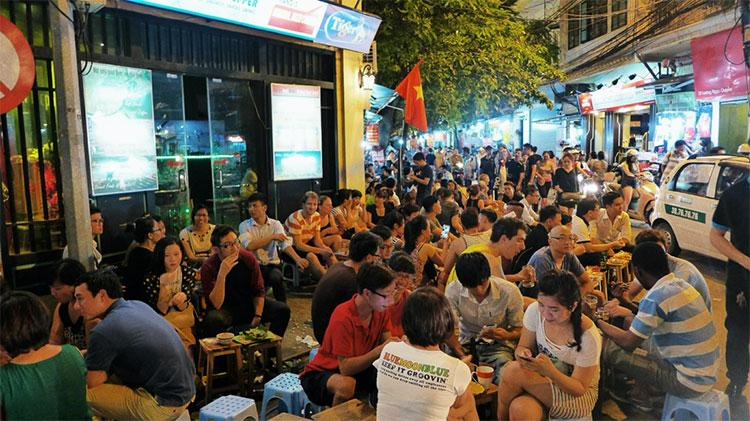 Vietnamese stuffed pancake
Once referring to the dishes that has existed for generations in Hanoi, you should not forget Vietnamese stuffed pancake. Before being rolled, each stuffed pancake is thin like a sheet of paper. To enjoy the full taste of the stuffed pancake, there may be a require for sauce. The sauce is made from fish sauce, glutinous vinegar, a few slices of fresh chilli, and other ingredients. Vietnamese stuffed pancake can be served with roasted cinnamon pork, shrimp paste.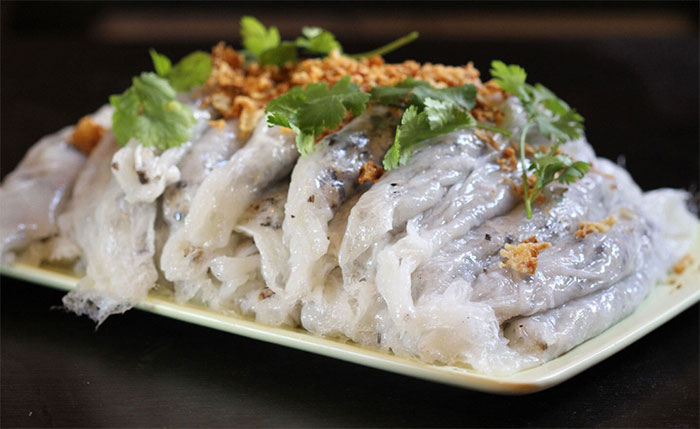 Pyramidal rice dumpling
Your morning can be started at a corner with a pyramidal rice dumpling. In the middle of the afternoon, a plate of pyramidal rice dumplings will be like a snack to "quench" your hunger immediately. Not only being sold in fixed shops along the road, but pyramidal rice dumpling is also carried by peddlers along any streets of the Capital. Pyramidal rice dumpling is made with simple ingredients with a filling consisting of wood ear mushroom, meat. The ingredients, onion and seasoning sauce, pepper, such as are washed, chopped and mixed together.
Douhua
Douhua is a folk dish made from soybeans and grape sugar. Douhua is ivory-white and fleshy. Douhua is smooth but not condensed like jelly.
Plain rice flan
It can be said that plain rice flan is the cheapest rustic gift. With only about twenty thousand VND, you can satisfy your appetite.
Under the diverse culinary tastes of Hanoians, there are many ways to enjoy plain rice flan. It is popular to eat plain rice flan with minced meat, soy sauce, onions or crab roe ... But perhaps the most popular kind is plain rice flan with soy sauce. This dish is both delicious and cheap, and it also shows the most simple rustic features of this kind of food.
Not as diverse as the Northern cuisine, Central cuisine has a specific depth, bearing the identity of an elegant, gentle land.
Hue lemongrass skewer
Hue lemongrass skewer is often grilled on charcoal and served with fresh vegetables, specially-made sauce. Hue lemongrass skewer can easily "take the hearts" of diners.
Hue lemongrass skewer is quite simply made with finely ground pork mixed with thin slices like vermicelli, diced pork fat marinated with salt, pepper. After that, the cook attaches the mixture on small bamboo chopsticks and bakes them on charcoal. The new taste of aromatic meat radiating on each bamboo chop has made people's hearts flutter. This is the attraction that Hue lemongrass skewer bring.
Vietnamese savory steamed rice cake
Vietnamese savory steamed rice cake is a very popular cake in the Central. Savory steamed rice cake consists of three main parts, the cake is made from rice flour, sprinkled with shrimp paste, and a mixture of fish sauce as the main ingredient and often poured directly into the cake. Auxiliary ingredients of savory steamed rice cake are usually onion and roasted peanuts.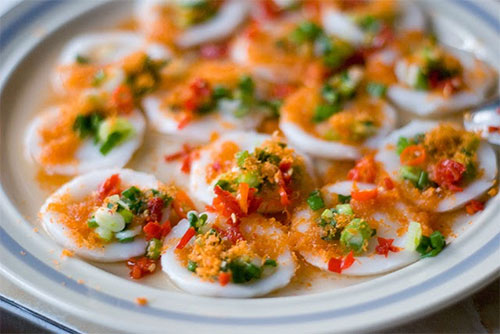 In the Central region, Vietnamese savory steamed rice cake is usually divided into two types: Quang Nam and Hue. Quang Nam savory steamed rice cake is usually big, thick, and eaten with a filling of dough, including meat, minced shrimp, chives. When eating, people add some fried onions and chili. Hue savory steamed rice cake is a little different with thinner bread, dried shrimp powder and crispy pork skin.
Vietnamese clear shrimp and pork dumplings
Vietnamese clear shrimp and pork dumpling has long been a popular dish of the ancient capital. Following Hue people to make a living, clear shrimp and pork dumpling is present in every region they come to. The beauty of clear shrimp and pork dumpling is that whether it goes to the South or the North, the ingredients and taste of the cake remains unchanged.
Vietnamese pancake – Banh Xeo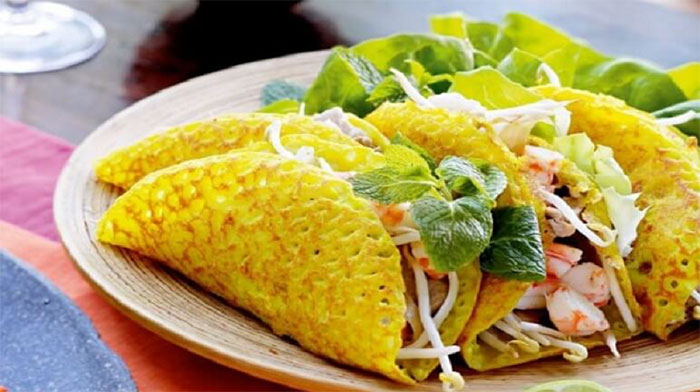 Banh Xeo of the Central has the size of an adult's hand, with few toppings, usually just a small shrimp, or a few slices of meat, squid ... add some fresh mung bean sprouts. Vietnamese pancake of the Central is attractive diners by the delicious taste. Besides, the rich taste of the sauce served with vegetables makes the dish more delicious.
Vietnamese mini pancake – Banh Can
Banh Can is a very familiar dish in Ho Chi Minh City. These delicious and attractive mini pancakes will make diners unforgettable. Banh Can is not only a popular spread of folk cuisine but also one of the unique dishes that contain almost all Vietnamese culinary arts elements.
While Northern cuisine owns the standard in choosing ingredients and Central cuisine is mentioned with ingenuity in the making process, Southern cuisine is impressed by its simplicity.
Mixed rice paper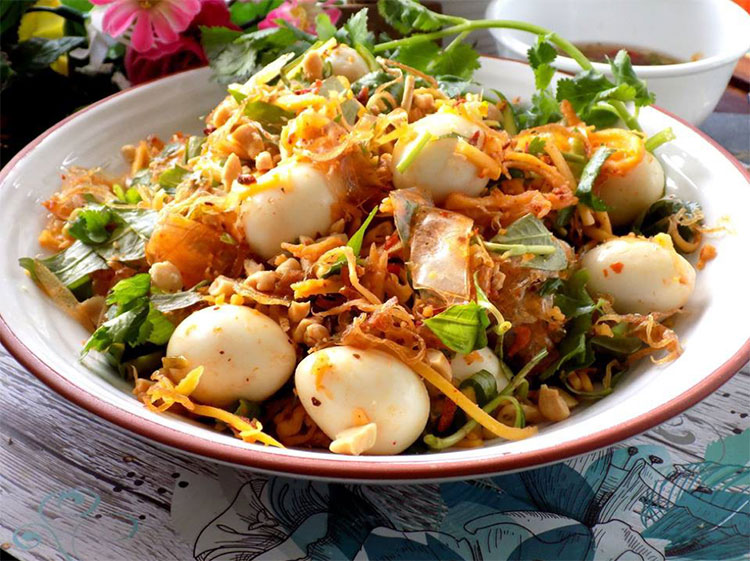 Mixed rice paper is a dish originating from Tay Ninh. At first, people mixed cut rice paper with oil, fried onion, chili salt and shrimp powder. Gradually, this dish became familiar with the locals and soon popular in many places. Currently, mixed rice paper has been peddled around the sidewalks in Ho Chi Minh City and has become an indispensable snack for students here.
The main ingredients are dewy rice paper, originating from Trang Bang - Tay Ninh. The seller cut rice paper and mix them with dried beef, dried shrimp, boiled quail eggs, mango, laksa leaves, satay, shrimp salt and some kumquat.
Offal – Pha Lau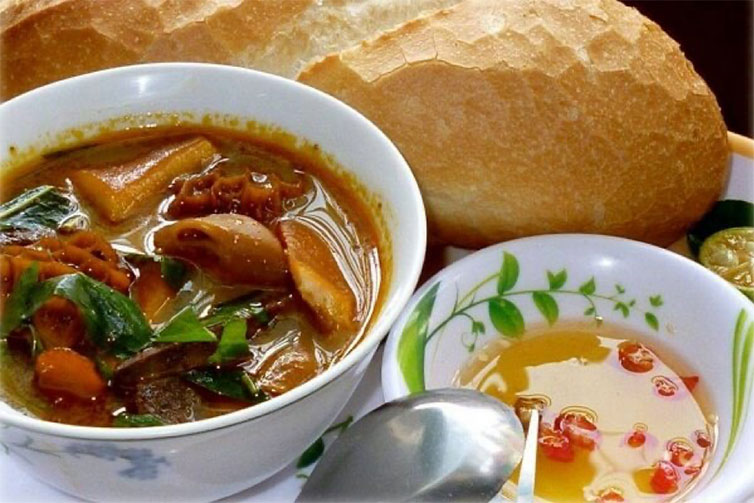 Offal – Pha Lau, including cattle organs such as liver, handbag, stomach, and spleen, is a Vietnamese kind of food. It is a fairly popular dish in Saigon. Over time, Pha Lau has been modified more or less but it is still a favorite dish enjoyed by many generations of Vietnamese students.
Crab soup
Crab soup is a familiar dish because of its popularity. It does not take much time to cook this kind of soup. The soup is very delicious and easy to eat. In addition, this soup is often chosen at parties.
The crab soup was imported from the West, at first only served at big restaurants. People eating this dish explored how to make it fit the natives. Easy to eat, easy to cook, crab soup gradually became popular.
Bo Bia (A kind of sweet junk food)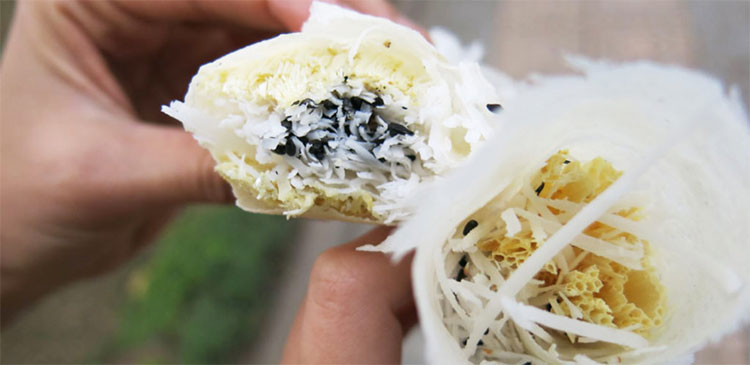 Bo Bia is familiar with every generation of students in Saigon
Sponge cake
Dried beef salad
Holly bread – Banh Tieu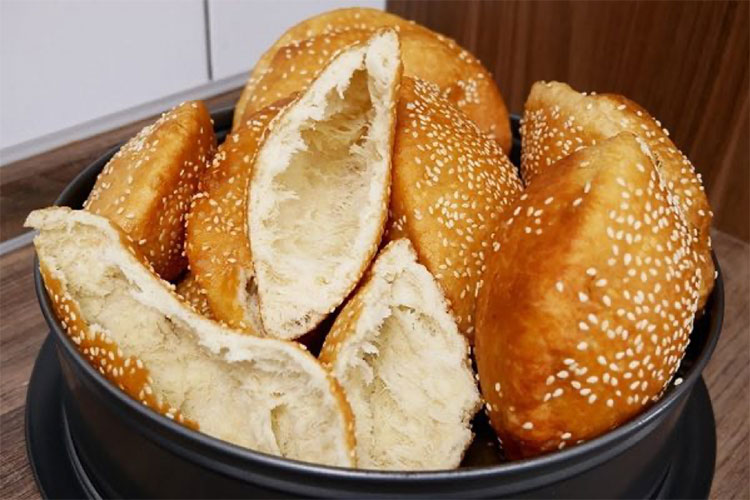 Baked sticky banana bread